In 1877, the Granite Workers' Union was the first to offer sick benefits to its employees. They built a way for their community to rally around those who needed medical attention and support to get back on their feet. Today, The Granite List, powered by Connect Healthcare Collaboration, is working to instill that same sense of community by connecting benefits solutions that add real and lasting value to plan members. ​
Episodes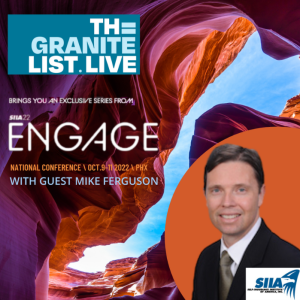 Wednesday Nov 02, 2022
Wednesday Nov 02, 2022
Live at the SIIA 2022 Engage Conference, we have our host Sally Pace from The Granite List Live with our special guest Mike Ferguson, President & CEO of SIIA.