In 1877, the Granite Workers' Union was the first to offer sick benefits to its employees. They built a way for their community to rally around those who needed medical attention and support to get back on their feet. Today, The Granite List, powered by Connect Healthcare Collaboration, is working to instill that same sense of community by connecting benefits solutions that add real and lasting value to plan members. ​
Episodes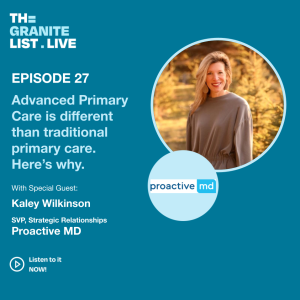 Thursday Jan 05, 2023
Thursday Jan 05, 2023
How is Advanced Primary Care different than traditional primary care? Joined by guest Kaley Wilkinson, SVP, Strategic Relationships for Proactive Md, we explore how advanced primary care means a provider is equipped to care for the whole person – mentally, physically, emotionally, and socially – and that person is at the center of the care model. For employers and advisors alike, this is truly a cost containment strategy built around each employer's unique employee population and claims data. Listen as Leigh and Sally guide the conversation around this important topic.