In 1877, the Granite Workers' Union was the first to offer sick benefits to its employees. They built a way for their community to rally around those who needed medical attention and support to get back on their feet. Today, The Granite List, powered by Connect Healthcare Collaboration, is working to instill that same sense of community by connecting benefits solutions that add real and lasting value to plan members. ​
Episodes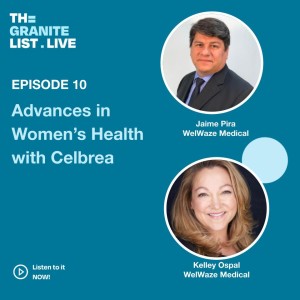 Thursday Oct 21, 2021
Thursday Oct 21, 2021
Breast Cancer awareness is 12 months a year if we are to save more lives and have earlier detection. Sally and Leigh's guests today are here to help.  Celbrea® does not replace a mammogram, but gives an interim, non-invasive, radiation-free way to check one of the earliest warning, before feeling a lump and takes only 15 minutes. Every 2 minutes a woman is diagnosed with breast cancer. Every 13 minutes a woman dies IN THE USA. Using liquid crystal thermographic technology, Celbrea basically takes the temperature of the two breasts and compares them. You'll want to hear about this life-saving technology that works alongside other early detection techniques. Sally and Leigh welcome Kelley Ospal and Jaime Pira of Welwaze, the creators of Celbrea, to inspire you to either offer this service in your office, or health plan, or for you the patient to request it. Women, it's the best 15 minutes you can spend between mammograms. You may want to bring your mom, aunt, sister, daughter, cousin, best friends, too. When this is offered as an event in the workplace, the increase in breast cancer screening and preventive measure success increases from 40% to 88%!
Learn more about Celbrea at https://celbrea.com and more about the company behind this technology at welwaze.com.
Read the rest of this entry »